As another year comes to a close, it's important we take a look back at the American whiskey market for current and future investments. Was 2022 a profitable year for the bourbon and whiskey industry? Will numbers and interest continue to rise? Is there room for infrastructure expansion in, say, Kentucky and Tennessee?
The quick answer to all of those questions is a simple and resounding yes! But let's dive in a little deeper and let the facts and stats speak for themselves.
Kentucky is King
In Kentucky alone, the state celebrated its best year for growth in the bourbon industry with more than $5.2 billion in new investments — from distillery expansions to brand new distilleries, according to a recent article by WKYT of Lexington, Ky. There are currently more than six new distilleries in the works.
Kentucky Gov. Andy Beshear spoke at a ceremony held by Sazerac celebrating the filling of the 8 millionth barrel of bourbon since Prohibition at the Buffalo Trace Distillery in Frankfort, Ky.
He talked about the burgeoning bourbon industry and how it's fueling Kentucky's economy and job market.
"Kentucky's bourbon and spirits industry continues to set itself apart as we conclude another tremendous year of growth statewide," said Gov. Beshear, according to the article.
"The momentum has been incredible, and the demand for Kentucky bourbon just keeps growing around the world. With monumental investments from companies like Sazerac Co., Beam Suntory and Pernod Ricard, our bourbon industry is reaching new heights. I want to thank everyone who has made this growth possible, from the companies themselves to the communities they're calling home. Bourbon has a truly statewide impact, with partners in every corner of the commonwealth."
According to the Kentucky Distillers' Association (KDA), bourbon is an $9 billion signature industry in Kentucky that generates more than 22,500 jobs. And if we're looking at production and consumption, the state receives more than $286 million in tax revenue each year.
Since 2000, bourbon production has skyrocketed more than 360% thanks, in part, to the premium brands driving the bourbon boom. Also making history this year, the number of bourbon barrels aging in Kentucky reached a record 11.4 million — that's about two barrels per Kentucky resident.
According to a news release by the KDA:
"The Bluegrass State continues to benefit from this amber wave, which now pours $9 billion each year into the Kentucky economy, sustains more than 22,500 jobs with an annual payroll topping $1.2 billion a year, and draws millions of affluent tourists from around the world to the Kentucky Bourbon Trail® experiences.
"A key export, distilling has the state's highest job spin-off factor among top manufacturers; buys at least 17 million bushels of corn and other grains every year, mostly from Kentucky farm families; and is currently investing more than $5.2 billion in new stills, warehouses, bottling lines, tourism experiences and more."
Tennessee Whiskey Soars
Tennessee Whiskey is another category of the all-encompassing American Whiskey classification that is experiencing tremendous growth.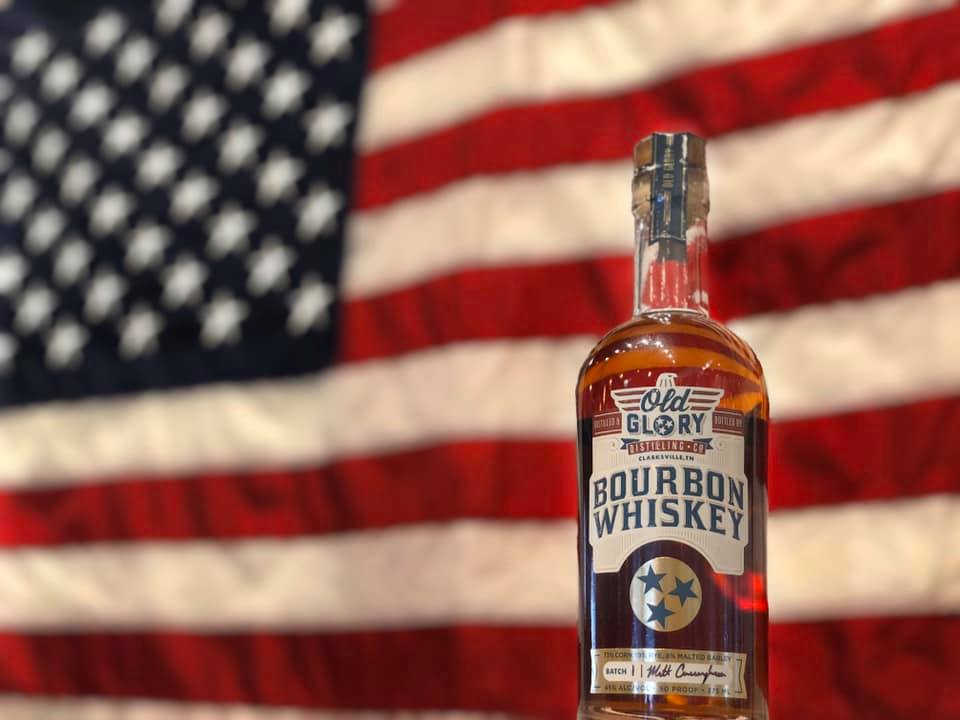 Obviously the largest producer of the spirit, Jack Daniel's, has grown astoundingly year after year, but there are also dozens of smaller distilleries scattered around the state that are fast making a name for themselves.
According to Shanken News Daily, "Tennessee whiskies advanced a solid 6% in 2021 to nearly 8.5 million 9-liter cases in the U.S. — outperforming their much larger bourbon cousins for the first time since 2014 — according to Impact Databank."
Other popular Tennessee Whiskey distilleries include George Dickel, Nearest Green, Ole Smoky, Nelson's Green Brier, Chattanooga, Old Dominick and the three CaskX partner distilleries of Corsair, Nashville Craft and Old Glory.
Also making news in this category in 2022 was the fact that a Tennessee Whiskey was named "The Most Exciting Whiskey of the Year" by Whisky Advocate. That's right, Jack Daniel's Bonded, a new product released in 2022, won the coveted spot on this list, beating out the likes of Dewar's 12 Year Old, Bruichladdich 8 Year, and Miyagikyo Peated, to name a few.
Recession-Proof & Premium Preferred
During the annual Distilled Spirits Council of the United States (DISCUS) in June, there was much talk about the possibility of the impending inflation and how it might affect the spirits industry. According to Nielsen IQ, the outlook remained positive:
"The spirits category has historically been resilient in times of economic downturn. Consumers will likely look to familiar brands they have always enjoyed across the beverage alcohol sector and regard spirits as affordable luxuries."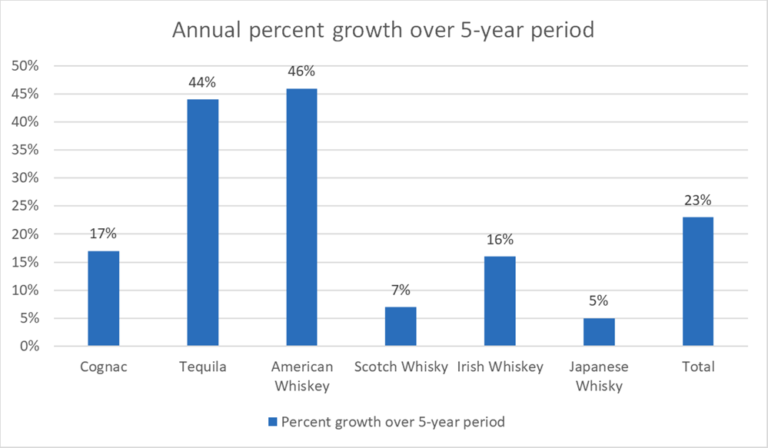 According to DISCUS, sales of luxury spirits grew 43% in the last year, and despite the looming recession, sales of luxury spirits brands continue to increase. In a Forbes article, it noted that both tequila and American whiskey have been trending upwards throughout the last five years, growing 45% over the period.
"We continued to see strong consumer demand for luxury spirits brands through the second quarter of 2022 despite the current economic environment," said DISCUS Chief of Public Policy Christine LoCascio in the article. It goes on to say: "She notes that the spirits sector has always been resilient in tough economic conditions."
And while high-end premium revenues were up 31% last year, the super-premium revenues grew 139%!
Tapering Tariffs
Another great sign that these booming American whiskey numbers will continue to climb came when the trade disputes between the U.S. and the UK were settled in June of 2022. The return to zero-for-zero tariffs on American whiskey sold internationally is a major accomplishment, and DISCUS and the Scotch Whisky Association (SWA) put out a joint statement to celebrate the occasion.
Here's an excerpt from the press release that sums up the importance of this tariff victory:
"Now that the crippling tariffs have ended, we stand ready to help reset and strengthen the crucial trans-Atlantic trade relationship. This enduring partnership is critical to accelerating the recovery from the damaging impact of retaliatory tariffs, the Covid pandemic, and the increasing pressures on global supply chains.
"American Whiskey and Scotch Whisky are deeply interconnected through bi-lateral trade, investment flows, and shared production practices. Important trade agreements reached between the U.S. and EU in the mid-1990s – which the UK has subsequently carried over – to eliminate tariffs on most spirits, including Scotch Whisky, Bourbon, and Tennessee Whiskey, form the foundation of mutually beneficial trans-Atlantic trade.
"Between 1997-2017, when there were no tariffs on distilled spirits between the US and UK, bilateral trade in whiskies increased 212% (from $453 million to $1.41 billion). The devastating retaliatory tariffs imposed on Single Malt Scotch Whisky and the American Whiskeys resulted in a 35% decrease in bilateral trade in whisk(e)y between 2018-2021 (from $1.51 billion to $982 million).
"The benefits of free trade are clear, and we champion it. We look forward to focusing on bringing our whiskies to consumers around the world and competing in the marketplace on a level playing field."
With unnecessary tariffs now out of the way, this presents a whole new consumer base for American whiskey. It's one of the main reasons why many of the major distilleries in the U.S. are expanding or have plans to expand production.
Fun fact: According to DISCUS, the top 5 export markets for American whiskey are Japan, UK, Australia, Germany and France.
Craft Distilleries: Small But Mighty
We know business is booming for the heritage distilleries like Jack Daniel's and Sazerac, but how about the craft distilleries that help fuel the industry with innovation, passion and diverse offerings? We're happy to report the craft arena is flourishing in 2022 just as much as the big guys.
According to the American Craft Spirits Association (ACSA), which recently completed its Craft Spirits Data Project with Park Street, the growth over the last couple of years has been remarkable. Take a look at these numbers below, courtesy of ACSA.
Key findings and highlights of the Craft Spirits Data Project 2022:
• The U.S. craft spirits market volume reached over 13.2 million 9-liter cases in retail sales in 2021, growing at an annual rate of 10.4%. In value terms, the market reached $7.5 billion in sales, growing at an annual rate of 12.2%. U.S. craft spirits market share of total U.S. spirits reached 4.9% in volume and 7.5% in value in 2021, up from 4.7% in volume and 7.1% in value in 2020.
• The number of active craft distillers in the U.S. grew by 17.4% over the last year to 2,687 as of August 2022. Active craft distillers are defined as licensed U.S. distilled spirits producers that removed 750,000 proof gallons (or 394,317 9L cases) or less from bond, market themselves as craft, are not openly controlled by a large supplier, and have no proven violation of the ACSA Code of Ethics.
• Despite economic headwinds, craft producers have consistently found value in reinvesting in their businesses. On average, producers invested $337,100 in 2021 alone. This amount decreased slightly (-2%) from 2020, but the sharp uptick in craft producer count bolstered the total amount invested in the U.S. craft spirits segment by 9% year-over-year to $826 million. The primary motivation for investment listed by those surveyed was for additional production to meet demand, followed by construction to increase visitor space.
• Craft distiller sales are almost evenly split between home state/tasting rooms (46.7%) and other states (53.3%) in 2021. Direct shipping remains an important and critical opportunity for continued craft distiller growth.
• Exports provided an important runway for growth in 2021. Exports of U.S. craft spirits increased by 58%, reaching 164,000 9-liter cases.
• Some states are "craftier" than others, with California, New York, Texas, Pennsylvania, and Washington leading the pack. Texas now is the third most concentrated state, having taken the fourth slot last year in 2020. Washington fell into the fifth slot, having been third in 2020. The top five states by number of craft distilleries – CA (225), NY (199), TX (173), PA (156) & WA (117) — make up 32.4% of the U.S. craft distiller universe, and the next five states — CO (112), MI (103), NC (93), OR (86), and FL (85) — comprise an additional 17.8% of the market. The remaining states represent 49.8% of the market.
Booming Rare Bottle Sales in 2022
Also worth noting in 2022 were the record-breaking sales of bottles of rare whiskey in various auctions. Just this month, a bottle of 23-year-old Pappy Van Winkle that was released in 2008 sold for a whopping $52,500 at a Sotheby's auction. In fact, the entire collection of bottles during that auction — which included bourbon and scotch — fetched a staggering $1,786,625.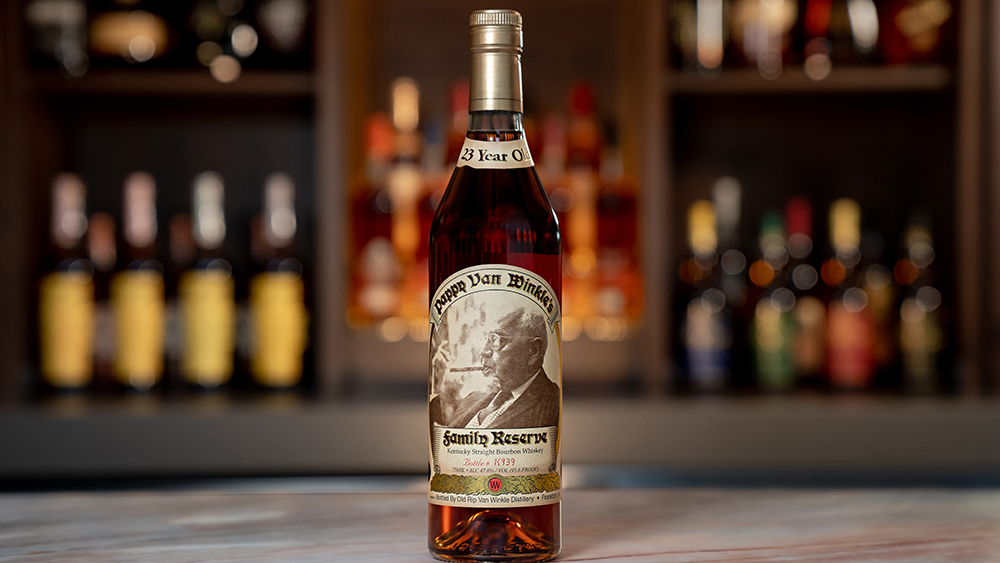 And if we're talking about the most expensive bottles of whiskey ever sold, we have to mention The Macallan 1926 60-Year-Old Fine and Rare bottle that sold for $2,775,000.
Here's an interesting article about the most expensive bottles of alcohol ever sold. As an explanation of the bottles listed here, it states, "This list is taking into account only the rarities, the fruits of patience, the old, musky bottles of booze that your grandma might remember."
Final Thoughts
While the date from 2022 is still being tallied, we do know that in 2021, nearly 30 million 9-liter cases of American whiskey were sold in the U.S., generating more than $4.6 billion in revenue.
With tremendous investment in expansion occurring now and new distilleries popping up every month, there's no doubt the American whiskey market — which includes bourbon and Tennessee whiskey, among others — will continue its climb.
From Super Bowl commercials to country songs to product placements in the popular "Yellowstone" TV series, whiskey has permeated the U.S. pop culture, and there is no question that it's going global. But even for those who don't have a finger on the pulse of American culture, whiskey is a spirit that is native, natural and enjoyed slowly, sip by sip — just as life ought to be.
Whiskey is no longer an if, it's a when.