Looking back on 2021, it's been quite a year for CaskX, despite the ups and downs of the global pandemic. Before last year, CaskX was mainly involved in the scotch world, but the competent crew looked for more opportunities in whiskey, and what they found was American gold (well, let's say amber) known as bourbon.
CaskX officially joined the bourbon industry in early 2021 when it purchased new-make barrels from Kentucky Artisan Distillery and forged a partnership with the notable distillery. Several trips to Kentucky followed, where the CaskX crew met and spoke with several more distilleries (and some beyond Kentucky) and looked to foster relationships within the industry.
A year later, CaskX has provided its intuitive and eager investors with more than three opportunities to buy into such a fun and lucrative industry, and there are several more on the near horizon.
But first, let's take a look back on 2021.
Examining the Bourbon Boom
In one of our first blog posts of the year, we took a closer look at the Bourbon Boom — when it started, what's fueling interest, and where it's headed.
Here's an excerpt:
There are now about 10 million barrels of bourbon aging in Kentucky, making that two barrels for every resident, according to the Kentucky Distillers' Association (KDA). Bourbon is an $8.6 billion signature industry in Kentucky, generating more than 20,000 jobs with an annual payroll of over $1 billion. Also, according to the KDA, there are more than $2.3 billion in capital projects either completed or now underway at Kentucky distilleries, a sign that the "Bourbon Boom" won't be slowing down anytime soon.

In 2019, Kentucky exported more than $570 million in bourbon and other spirits, with the top export markets being Japan, Spain, Canada and Australia.
With the removal of tariffs in the last quarter of 2021, this is even more good news for the bourbon industry.
Visiting Kentucky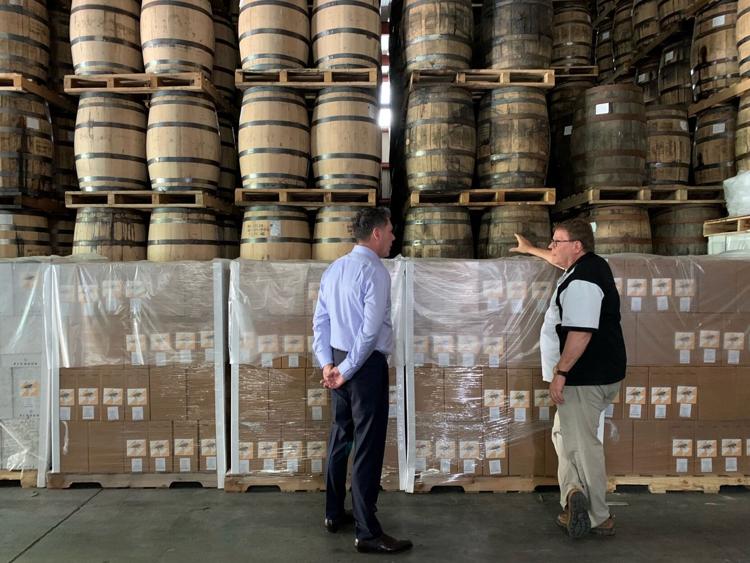 In June, CaskX CEO Jeremy Kasler and the team visited Kentucky to formally meet the folks at Kentucky Artisan Distillery, conduct interviews with Louisville media about the company, and also visit other distilleries in the bourbon epicenter.
It was a whirlwind trip, but it led to more discussions, more connections and more ideas for the future of CaskX.
Here's an excerpt from the trip:
Kasler met with (Kentucky Artisan) Distillery Director Chris Miller and Master Distiller Jade Peterson for a personal tour of the craft distillery located in Crestwood, Ky., just outside of Louisville. On that day, Peterson just happened to be distilling CaskX's latest bourbon distillate, this time a wheated mash bill, which it is currently selling to clients.

Peterson gave us all a sample of the white dog (un-aged bourbon) coming off the still, and he proudly stated that it's some of the best bourbon he's ever made.
Along with Kentucky Artisan, the CaskX team visited several other distilleries that weekend, including Bardstown Bourbon Co. and Wilderness Trail.
Other distilleries sign on
After the trip to Kentucky, CaskX was full steam ahead in finding more bourbon and whiskey for its investors.
The next distillery to sign on was MGP Ingredients out of Lawrenceburg, Ind., a contract distillery known for its quality spirits. MGP makes bourbon and whiskey for brands both big and small, and while they don't disclose the full list of who they work with, some well-known brands include Bulleit, SmokeWagon, George Remus, Rossville Union and many more.
The next distillery added to the CaskX portfolio was a new-ish Kentucky distillery by the name of Jackson Purchase. While it's new to the bourbon industry, the facility where it's located — in the western most point of Kentucky, near the Tennessee border — was constructed years ago but never once distilled any whiskey.
A crew of businessmen and distillers resurrected the distillery, which is now producing top-notch bourbon. They even signed on the "Dream Team of Bourbon," including industry veterans Craig Beam (formerly of Heaven Hill) and Terry Ballard (formerly of Willett).
CaskX will be sharing more about our trip to Jackson Purchase very soon, and be on the lookout for a handful of new distilleries that we'll be partnering with in 2022. We may even venture into other categories of American whiskey, so stay tuned.
If 2021 was any indication, 2022 is going to be a productive and lucrative year for our investors. Find out how to invest today.