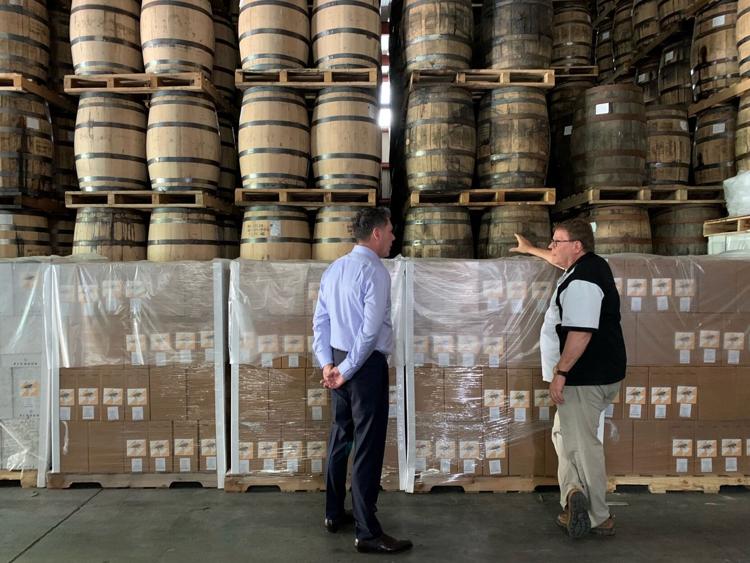 On a whirlwind trip, CaskX CEO Jeremy Kasler recently visited Kentucky and stopped by as many bourbon distilleries as he could, including a handful that will be doing business with the cask investment company in the future.
One of those distilleries, which CaskX is currently purchasing barrels from, is Kentucky Artisan Distillery in Crestwood, Ky. Partly a contract distilling company, Kentucky Artisan is a craft distillery known for making fine bourbon for some of today's top brands.
WDRB, a major news media outlet affiliated with FOX and located in Louisville, Ky., met up with Kasler at Kentucky Artisan to get the story behind CaskX and how it's securing top-notch bourbon for investors while at the same time helping distilleries with costs, expansion projects and overall growth.
Here's a link to that story with some great footage of Kasler at Kentucky Artisan:
And here's a snippet of the story:
CRESTWOOD. Ky. (WDRB) — An international investment firm is busting into bourbon territory by offering unique opportunities for individuals to bank on Kentucky's spirit.

"CaskX is a bourbon barrel investment company," CEO Jeremy Kasler said. "We allow our clients to invest directly into barrels of bourbon."

It's the same concept as with some investment firms allowing individuals to buy into race horse ownership — but with bourbon. CaskX promises smooth flavors and stable returns. The company leader said it's a way for people to diversify their investments and for distillers to build more upfront profit.

"It's a win-win," Kasler said. "It's a win for the distiller, and it's a win for the investor, because they have aces to a top commodity that didn't exist to them previously."

Katrina Helmer, reporter, WDRB
---
Also, Kasler sat down with reporter David A. Mann from Louisville Business First while he was in Kentucky to talk more about whiskey investment and CaskX's foray into the bourbon industry.
Here's a link to that story as well, along with a snippet from the article.
This type of business could be a lifeline for the industry, as there are plenty of young distilleries out there that have sprung up in the last few years amid an ongoing bourbon boom. These young distilleries have started making bourbon but have been unable to sell much of it yet because it takes bourbon years to age.

CaskX is looking to buy un-aged bourbon, meaning it's a way for young distilleries to generate revenue in their early years. It's also looking to pay the distiller to age that bourbon at its facility. And the investors are looking to buy something unique here — not something from a large distiller — meaning small distilleries could benefit.

"It's nice to have repeat customers," said Stephen Thompson, founder of Kentucky Artisan Distillery. 

He said the sale of barrels to CaskX has been meaningful for the small operation, though there has been plenty of demand for bourbon, of late. 

"I think it's a good opportunity for some of the smaller distilleries," Thompson said. 

David A. Mann, digital editor, Louisville Business First